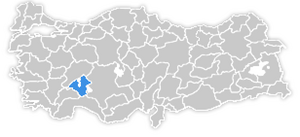 Isparta is a province in southwest Turkey. It is located in Mediterrenean Region, between Afyon, Burdur, Antalya and Konya. Isparta is well known for its roses and rose products, carpets, grapes, apples and sour cherries.

Isparta, lies in the Lakes region of Turkey with the Burdur province. Kovada Lake, Isparta Lake and Egridir Lake are among the major lakes in Isparta.

Kizildag National Parks, Camyol and Kuyucak forest recreational areas, Egridir oak and Sutculer forest conservation areas are among the natural sites in Isparta. Pisidya, Antiokheia and Apollonia antique cities, Egridir, Uluborlu and Yalvac Castles, many Ottoman era mosques, Ertokus and Dundar Bey old theological schools (Medrese), Egirdir caravansaray, Ertokus Hani Inn, Firdevs Bey Bazaar and Baba Sultan Mausoleum are the important historical sites in Isparta. Isparta Museum and Yalvac Museum are also worth a visit to see the history of the region.