The fight between the government (and media, police) and the army is still going on.
Let me summarise exactly what has been going on:
Our republic was established with the idea of ´cultured - educated elite will rule the uneducated villagers and take our country to the same level as developed western countries´.
The army was always part of this ´cultured/educated elite´.
Everything was kind of ´fine´ but something changed in last years
Before going into what has changed let me explain a few things:
First of all there was not a bourgeois class in Turkey when the republic was established.
The main reason for that was the Ottomans: As the ruling dynasty, they did not want another power base which could challenge their authority in those soils.
That is part of the reason no name of the other powerful families can be mentioned from those times..
Muslim groups were the ruling class of Ottoman state engine and the unimportant things such as commerce, trading etc were left to non Muslim groups such as Jews, Armenians, Greeks etc..
When the mighty Ottoman empire collapsed and we ´exchanged´ the non-Muslim groups out of Turkey, we ended up with mass Muslim Turks and Kurds with no private capital at all!!
So the state had to do everything..
So going back to topic..
Now in Turkey as the result of capitalism becoming widespread, there is a bourgeoisie class!!
This bourgeoisie class has started to think that they have to have power too!!
And also the Internet, in these days , somehow, you can not hide anything and people are able to reach the information..
Anyway, there is almost everyday a piece of news leaking to the media about the army and its past handlings of the events specially with the Kurds..
Recently, we just heard that 12 people got executed in the army base in 1994 and buried in the same army base..(daily taraf also showed a map where they were buried. And strangely, according to the rumors, army started to do some excavation!! at the same place)
http://www.taraf.com.tr/haber/37952.htm
*********************************
Andimiz
I think some of you will remember the thread ´Andimiz´
http://www.turkishclass.com/forumTitle_29075
And what I said over there was
"This vow (Andimiz) should be abolished.. it is quite embarrassing!!"
Well as you can see, we talked about it in 2008 March, a year and half later!!, a legal association put up these posters in Turkey!!
It is mocking our ´ANDIMIZ´!! Every bit of it..
It says things like :
"I am a Kurd, a laz, a Circassian, an Armenian, an Alevites.....
Let my existence be a punishment to the existence of Kurds, Lazs, Circassians, Armenian and Alevites..
How happy for the one who says I am a Kurd, a laz, a Circassian, an Armenian, an Alivite"...
And this association (mazlum-der) explained that they put those posters so that andimiz can be abolished!! That is their main objective!!
And also Engin Ardic mentioned about it a few months ago as well
He said:
Bu ögrenci andi da, çocuklari "küçük birer fasist" olarak yetistirmek üzere uydurulmus bir "beyin yikama" çabasidir.
Translation : This is an attempt to brain wash little kids to bring them up as "little fascists!"
LOL
*********************************
Alperens are provoked..
Another incident caught my eye was the Alperens getting cross with a concert in Topkapi Palace with the idea that ´drinking wine in that concert is disrespecting Ottoman values because it was held in sacred Topkapi´.
Then alperens, went to the avenue and then they did prey all together on the street after shouting slogans..
The pianist was Idil Biret who happens to be one of the most famous Turks in the world.. ..
(Alperens are the youth group of the party called BBP which lost their leader in a helicopter incident!. The thread we talked about his death is here. http://www.turkishclass.com/forumTitle_39961 .
BBP is a party seperated from the nationalist party MHP 20 odd years ago because MHP was not Muslim enough. Basically, BBP is a nationalist party with the strong Islamic views)
Alperens said that they were provoked by the idea of wine in Topkapi..
They were provoked and when they are provoked they destroy the things..
When they are provoked they get together, they attack places such as concerts, sometimes they burn things, sometimes they burn people (it happened in Sivas Madimak for example). If they dont burn anything, they break glasses, rip posters etc..
Why? because they have some ´nationalistic or islamic feelings!´.
And these people gets provoked easily. LOL
As you all know, Turks never ever drunk wine in Topkapi gardens in history!!
http://www.radikal.com.tr/Radikal.aspx?a...ategoryID=77
***********************************
Lazs
Well this story is from the black sea region of Turkey..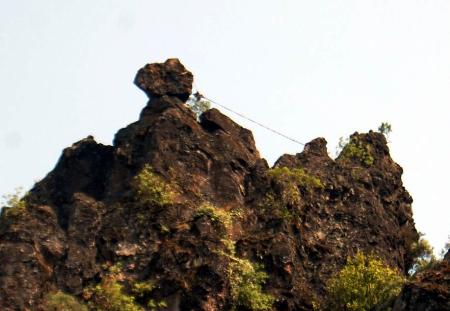 This is a rock tied to a nearby rock with a rope.
It says that nobody knows who tied that rock which is a danger of falling into the road..
Well..Black sea people they are!! LOL
http://www.milliyet.com.tr/Yasam/SonDakika.aspx?aType=SonDakika&ArticleID=1118673
*************************************
A joke, I came across in Cetin Altan´s daily column
In a very dense jungle, a lion is trying to persuade a monkey which is on the top of a tree, to come down.
The lion goes:
-Please, come down..I promise you I won´t harm you..All I need is a friend. Because everybody is scared of me and I am so lonely.
The monkey,
-Stop lying, I know.. As soon as I come down you will eat me..
-I am not lying.. All I want is friendship and understanding. May be a bit of love..Ok..To show how sincere I am, I am going to tie my paws with this rope..See..there is nothing to be scared..come on ..please come down..says the lion.
And he ties himself and waits for the monkey.
The monkey
-Ok, I will come down but will you let me to tie and close your mouth as well?
The lion says "yes".
Then the monkey comes down and ties the lion´s mouth..
But the monkey starts to get sweaty and his body starts shaking..
The lion asks:
-Are you still afraid of me?
The monkey, sweating and shaking:
-I am sweating and shaking because I will be doing a lion for the first time in my life. :)
---
This column was read by 4999 unique visitors