Map of Sri Lanka
NEGOMBO
I arrive at Colombo, Sri Lanka's capital, at nine in the morning. My bicycle seems ok though the cardboard cover bought at KLM Services looks like Attila the Hun used it himself, torn and with many holes in it. Preparing my bike: adjusting the handlebars, putting the pedals on again, pumping up the tires. Piece of cake. The travel company I booked this half-organised trip with is waiting for my transfer to the hotel. After dropping my bicycle and luggage at the hotel in Negombo, about an hour's drive, I go for a walk to see the Indian Ocean, a gorgeous sea but with a much-polluted beach. It is hot and humid, as if a wet woollen blanket is covering me. My first meal is local: hoppers with onions. Hot onions. And when I say hot, I do not mean the temperature! Hoppers look like tiny pancakes, you could compare them with Surinam rotis. Then sleeping, the jetlag has got me! The next day I go exploring this small town: a Hindu temple dedicated to Ganesha, the eldest son of Hindu god Shiva, is my first stop. Like in any Hindu or Buddhist temple, I have to take off my shoes and cover my legs. My knee-length skirt is too short. More temples and churches follow. Partly I walk, partly I take a tuk-tuk, an auto-rickshaw, and it is just too hot to walk around in the plain sun. Everywhere people are staring at me, greeting me and children are begging for money. It is obvious Sri Lanka is a dirt-poor country.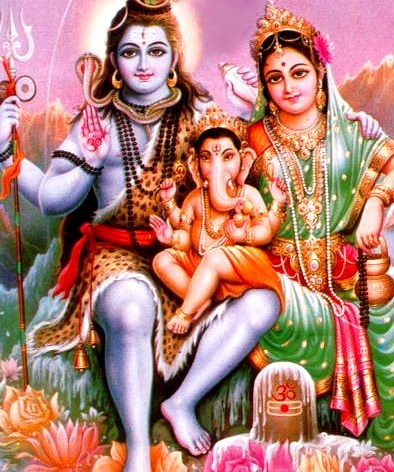 Shiva, Ganesha and Parvati
NEGOMBO to KURUNEGALA / Distance: 73 kilometres
The day starts with 15 kilometres hard work, hills are getting steeper. I arrive in Kurenegala without any problem or accident and that is quite a miracle due to traffic on the road. The question is not 'who has right of way' but 'who takes it'. The one that honks the horn loudest and most often goes first, it is as simple as that. I check in at Rantalya Rest house, with some extra company in the presence of insects in the bathroom. No problem, that is normal in the tropics. Rest houses are all government owned, private accommodation is called hotel or guesthouse.
K

URUNEGALA to DAMBULLA

/

Distance

: 57

kilometres
Today my route mainly follows road number A6, a busy road with loads of buses and heavy trucks. As polite and gentle as Sri Lanka people are in daily life, as dangerously and impatiently they act in traffic. Knowing how to block other people seems to be a part of driving lessons. Later a Sri Lankan woman tells me that one can buy very easily a licence, also bus drivers. All trucks have a sticker on the back that says 'fully insured'. I hope they are, poor possible victims! After about 11 kilometres I get problems with my intestines, where is a toilet? A pastry shop with a squat toilet gives relief, only where is the toilet paper? Across the shop is a big school and curious as I am I walk onto the playground to have a look. Once a teacher always a teacher. The English teacher welcomes me and shows me around for more than an hour. I see the physics classroom, the home economics classroom and the music classroom. The children of Kindergarten go crazy when they see me, large groups surround me and the noise is enormous. Many of them are giggling while pointing at me. This is a public school and it means that education here is free for each child including schoolbooks and one uniform. There are children of several races and religions together: Hindu, Buddhist, Christian, Muslim, Tamil, and Singhalese. The facilities are very poor in my view, the classrooms boringly simple. No educational posters on the walls, no biology dolls, no full bookcases or other learning material. Only tables and chairs and in most classrooms a blackboard. A couple of kilometres later I arrive in Dambulla.
Dagoba in Anuradhapura
DAMBULLA, ANURADHAPURA AND MIHINTALE
My driver for today brings me to Anuradhapura, Mihintale and via the cave temples back to Dambulla. In the old town of Anuradhapura I find quickly a (compulsory) guide who shows me around, talking very enthusiastically. I see archaeological findings, ruins of Buddhist temples, irrigation systems and ponds. I hear many facts about the old town and its former rulers, the destroying and more. I see stunning Buddhist temples and dagoba, a dome-shaped structure built over relics of Buddha or some Buddhist saint. All the time I have to walk barefoot and that is sometimes painful with hot and sharp stones. My European feet do not have a thick layer of callus. With the help of the guide and his explanation, I make an offering with some palm oil at one of the temples. In the afternoon, I go to Mihintale to see the famous 1840 steps. I try to climb them all but after 425 steps I stop, I have a horrible headache. Last visit of today are the caves temples of Dambulla. Also there a lot of steps, within seconds I am soaked of sweat. The several caves house many Buddha statues and for believers this the ultimate place to sacrifice. The Golden Temple there has a huge, meters high, Buddha statue that towers above the complex. Also here it is crowded with praying and offering people.
Mihintale steps
DAMBULLA to SIGIRIYA / Distance: 19 kilometres
Already around eleven o'clock I arrive in Sigiriya. I spend my time next to my guesthouse in the shade. At 16.00, I go to the famous rock of Sigiriya to climb up. That climbing goes a lot smoother than I thought. At the summit, I have a great view over the surroundings. I meet a single travelling Japanese guy who wears a T-shirt with 'I love Hiddink' (the Dutch football coach). We talk for a while and he gives me his address so I can send him some pictures. He has no camera with him, and for a Japanese that is very strange. After taking some pictures I go downwards again. Unfortunately, I take the wrong route down and after walking for one and a half hours I end up in a little village four kilometres from Sigiriya. Together with a German tourist who made the same mistake I take a taxi back. Walking in this heat is not an option.
Sigiriya rock
SIGIRIYA to POLLONARUWA

/

Distance

: 64

kilometres
After a few kilometres of bumpy road, there is smooth asphalt again: a real treat for cyclists. The road goes through Habarna and not the shorter jungle road because there is a possibility on that road there are wild elephants. However, also on the road to Habarna there are warning signs for elephants but I do not see the animals. I do know they are not far way: fresh elephant droppings everywhere. It goes fast today, there are many descents – wind in my hair while going at a speed of 55 kilometres per hour! Noon, lunchtime! I see the sign of a 'Holiday Inn', but I already know that this is not a member of the international hotel chain. Many restaurants in Sri Lanka are called this way. The waiter does not have a menu for me but he says the fried rice and the fruit juice are delicious. Ok, I will try it. The juice is really nice but what fruit is it made of? A little while later, I see the waiter leaving and coming back with the well-known plastic bags of a Chinese take-away. I get my food served. It is on a plate covered with plastic foil (why? Is this plate supposed to stay clean?) and my cutlery consists of only a teaspoon. I wonder if this place will survive very long. I also get a litre of water in a Cola-bottle. I decline it knowing it is tap water that you cannot drink around here without getting sick.
Elephants near Habarana
POLONARUWA
Last night it was horribly cold with the air-conditioning on in my hotel room. There is no option to turn off the air-conditioning, it feels like sleeping in a sauna. Therefore, I do the only logical thing: I ask for blankets. The archaeological museum has artefacts like pictures, paintings, and little mementoes of a time long ago, statues and more. The accompanying texts give me information about age and where it was found. I pick up my bicycle at the hotel. The park I am going too is quite large and to view all the ruins and dagoba cycling is the best way. It takes almost all day to see the most impressive ones. At two of them, I get extra explanation: I know now that one is never allowed to turn around when leaving a Buddha statue. Always walk backwards, to show your butt is very impolite.
Buddha in Polonaruwa
POLONARUWA to NALANDA / Distance: 80 kilometres
Near Giritale I see a water tank, a large basin, almost a lake meant to provide the locals with fresh water. Again today, many times I see the roadside when truck drivers have no mercy and push me aside. Shortly after twelve o'clock, I arrive in Elahera, time for delicious cookies and pastries in a local shop. Some school kids come towards me and we try to have a conversation. That is easier said than done, they do not speak English and my Singhalese, despite my little dictionary, is awful. I go further to Nalanda, another 28 kilometres with head wind on a steep road. Tonight I stay at the Country Side Hotel on half-board basis, where I get my own little bungalow. Two young men, both trainees of a school for Ayurvedic medicine, are welcoming me at the entrance. They explain all the medicinal herbs and spices in the garden next to the hotel and I get a cup of herbal tea. After dinner, one of the trainees gives me an Ayurvedic massage. The massage is very nice for my oxygen-starved muscles, only my calves protest when the massage is a little hard.

Temple at Nalanda Gedige
NALANDA to MATALE / Distance: 28 kilometres
First, I go a little back on the route to see the eighth century Buddhist and Hindu temples of Nanlanda Gedige. It starts raining, so I fear for a wet day, but after a short while, it is dry again. Some kilometres further, I stop to visit the convent of Aluvihare. Buddhists are not really friendly for sinners. I see pictures and paintings with punishments and beheading and quartering is quite normal. A Roman Catholic indulgence with some prayers is then much simpler. Then there is Matale. Good heavens, what a crowd, what a lot of traffic. A cauldron that takes a lot of 'steerswomanship' to pass it. My hotel is easily found and the evening I spend sitting in the garden with a drink and a book.
MATALE to KANDY / Distance: 28 kilometres
Two kilometres outside Matale I have to make a decision: shall I take the only 15 kilometres but very busy road to the right to Kandy or shall I take the quieter but ten kilometres longer road on the left? I choose to take the quiet one. Whilst cycling I see great nature, rice fields and many people greeting. In Kandy I go to the railway station to make inquiries about the train the day after tomorrow to Nanu Oya. I have to take my bicycle with me. First class is already fully booked, no wonder there are only four seats there but in second class, there is plenty of space. The stationmaster tells me that I have to bring my bike at eight o'clock in the morning, at nine my train will leave and I can buy my ticket at half past eight, not a minute before. Earlier I got the advice of visiting the Temple of the Tooth at night because is then more special than during the day. Several rituals can be attended and the building will be completely lit up. In the afternoon, I go to the Kandyan Arts Centre where I watch a Sri Lankan dance show at six. It is very nice to see, a little spectacle with juggling, fire-spitting and a few dancers that are not afraid to walk on fire, the hot coals are red-hot. Ouch! Back in my guesthouse, I make a reservation for a tuk-tuk trip to the elephant orphanage.
Dancers in the Kandyan Arts Centre
KANDY
It takes tuk-tuk driver Rumi one and a half hour to bring me to Pinnewala, 40 kilometres from Kandy. A tuk-tuk does not go that fast. I view the bathing and replacing of about 60 young and old elephants. The youngest is a little 2-month old boy – very cute, he is only hip high and the oldest as far as I know is a gentleman of about 40 years. Two and a half metres high with enormous and impressive tusks. Ten of the young ones are bottle-fed. I walk around to see more and to touch a few. Well, they can use a peeling! What a rough skin. Then it is time to ride an elephant. Riding an elephant here is not like what we see about riding one in Thailand. There are no cushioned seats, just a plain blanket and there you go. Baby Pooja is mine for 45 minutes, a slightly stubborn young lady of 17 years old. The driver hits her a few times with his stick because Pooja just does not listen and walks away from the road. Apparently, the grass is more delicious over there. It is a special but not very comfortable experience. My thighs hurt a lot after dismounting the animal, my groins feel too much overstretched. Tossing up and down on her vertebrae is not really feeling like a soft pillow, especially when the path goes up or down I must take care not to fall off. At night, I attend the ceremony in the Temple of Tooth with offerings, drummers and a tour along 21 paintings that show the history of the tooth, starting at Buddha's birth. They remind me a little of the Stations of Christ in a Catholic church.
Bathing elephants in Pinnawala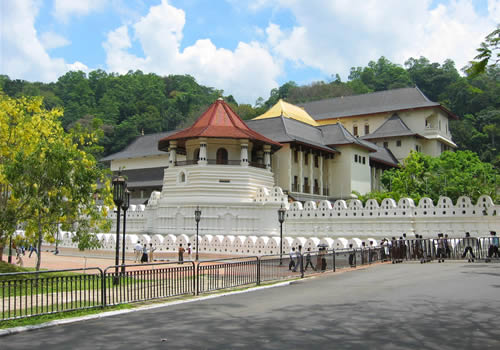 Temple of the Tooth
KANDY to NUWARA ELIYA / Distance: 9 kilometres (incl. train 80 kilometres)
At the luggage department of the station, I check in my bike. I have to unload it myself and my seven bags I must carry with me to the compartment. A carton on the frames serves as ticket. This ticket for my bicycle costs four times more than my own ticket. The train leaves and after a while the tracks go up the mountains. The views are spectacular. Many tea plantations, little water falls and clouds hanging low over the mountaintops. The windows in the compartment are open and it is very noticeable that the temperature is dropping. Arriving in Nanu Oya I see that people here wear long sleeved blouses, with around 17 degrees it is almost feeling Dutch. The road to Nuwara Eliya is uphill, according to my guidance papers it should not be a lot but it feels that way though. In less than 7 kilometres I go up 300 metre, when I count it's only 4% but it sure feels like more. In Nuwara Eliya I check in at the Alpine Hotel that has warm water – and not all hotels here provide that – and looks clean and nice. The name of this town means city of Eliya though I think that city of Brits would be better. Much English influence around here. Typical English gardens, cottage-like houses, English street names and even a racetrack with competitions in the Spring amongst them a real Ascot-race.
Tea plantations near Nanu Oya
Waterfall near Nuwara Eliya
NUWARA ELIYA to ELLA

/ D

istance

: 56

kilometres
It goes downhill with me today, literally speaking, because between Nuwara Eliya and Welimada – a distance of about 22 kilometres - I descend 1,000 metres. I have cramp in my hands from pulling the brakes and I have to be very alert, there are many hairpins, potholes and oncoming cars and before you know it you are down somewhere in a ravine. I stop at Seetha Annam, a famous Hindu temple and I take many pictures of the beautiful surroundings. I have not climbed Mount Ella yesterday but today I see Ella Gap, the ravines and the valleys. It is too early to stop yet in Welimada so I go on for another 28 kilometres to Ella. Parts of the route are going uphill and twice it is too steep for me to cycle, I have to get off my bike and walk.
Nuwara Eliya
Ella Gap
ELLA to THANAMARVILA / Distance: 65 kilometres
My first Sri Lankan breakfast: string hoppers with spicy fish- and potato curry plus some mini-bananas. String hoppers look like Chinese noodles only then light red of colour. At the beautiful Rawana water falls there are of course stalls with the obvious tourist stuff, postcards, fake jewellery and more. Next are the rock carved Buddha statues of Buduragawela. They are impressive. It is not a good idea to go too much further in this heat so I set my destination at Tissamaharama. Twenty-eight kilometres before I get there I see again a Holiday Inn sign in the little village of Thanamarvila. Again, it is not the real Holiday Inn but a small guesthouse, without any of the luxury a real one would have offered. My bathroom is a little crowded: when I enter, I see I have the company of two yellow-green 'shower'-frogs. The real Holiday Inn will not offer that facility!
Rock carved Buddhas in Buduragawela
THANAMARVILA to TISSAMAHARAMA

/ D

istance

: 28

kilometres
I start very early this morning so before nine I am already in Tissamaharama at the Travellers' Home. In the early afternoon, I go by local bus to Kataragama. I want to visit the temple grounds and tonight be present at the Perahera. That is a sort of yearly procession held by Muslims, Hindus and Buddhists. The festivities take ten days and are held each year with full moon in July or August. The first part of my temple visit goes well though that barefoot walking is not always very pleasant. Also in the temple grounds is a little mosque, quite sober in decoration. When it is dinnertime, I go into the Bank of Ceylon Restaurant. The waiter asks what I want and I answer 'food'. 'But it is vegetarian,' he replies. To me that is no problem. There is no menu; it looks like everyone gets the same meal. After tasting some of the rice and curry, my face is heated, so hot. The staff are laughing but show me mercy and they change some of the food for the less spicy tourist dishes. Around seven o'clock I sit at the roadside waiting for the Perahera procession. I have to wait quite some time as this only starts at a quarter to nine. It starts with dancers with cracking whips, fire jugglers and divided over the procession six beautifully decorated elephants. Then groups of girls, women, boys and men follow, each with different folk clothing and dances. Each of these groups highlights an aspect of life in Sri Lanka. I recognise the tea pickers and rice scoopers. On both sides, men who carry torches drenched in coconut oil light up the procession. At the end of the procession, on the back of the sixth elephant, there is a man with a cloth covering his mouth. He represents the temple's secret that absolutely must not be told during the Perahera else the priest will die.
Perahera in Kataragama
TISSAMAHARAMA
Early today, at five I get into the jeep that will bring me to Yala National Park. There I get the company of a wildlife guide who will spot animals for me and point them out to me. I do not have to wait long, soon three wild elephants cross the sand path in front of the jeep. One sees us, makes a little detour so he can avoid us. Smart animal! Whilst driving I see water birds like ibises, herons, storks, flamingos, pelicans and also the first crocodile of today. Apart from deer, I also see a wild boar, water buffalo and mongooses but the most spectacular is the leopard that hides itself in the bushes when we come too close. Twice more today I see a leopard and twice more wild elephants. The leopards are sleeping or washing themselves and happily we do not disturb them in doing this. To see three leopards is quite special because there are only about twenty-five of them in this huge park. Besides these special ones, I see some smaller fry like chameleons, varans and macaques. Around half past ten we drive to a slightly cooler place because now, in the hottest part of the day there are no animals to spot, they are hiding from the sun as well. Around one o'clock we go to a spot near the beach. Nothing to do or to see, the only restaurant is still under construction, but there is a nice breeze and I have a great view over the Indian Ocean. Then it is time for part two of my safari: the sleeping leopard, an elephant at almost touching-distance and many monkeys. At six, the fun is over and the driver brings me back to the Travellers' Home.
Yala Park
TISSAMAHARAMA to TANGALLE

/

Distance

: 71

kilometres
The quite boring route between these two places is mainly along the A2, a high-level road, though you can discuss the meaning of 'level' here. Between Hambantota and Tangalle, about 50 kilometres there are more potholes than asphalt. Combine that with the Sri Lankan driving style and a sometimes steep road and you know it was not the easiest so far. When again almost pushed into the roadside by a car, I curse loudly. Not that anyone will understand but it is a relief. The only part that was worth stopping at, besides of course loads of drink stops, is a salt making area to take some pictures.
TANGALLE to HIKKADUWA

/

Distance

: 34

kilometres
Today the road surface is a real disaster: half of the road is gone by strong waves from the ocean next to it, potholes everywhere, washboard and dangerous drivers. Today cycling is not fun. In Matara, I go straight to the station, hoping I can get a train to Hikkaduwa. The staff member of the luggage office says there is no place on the train but when I look at his insecure way of checking books, obviously not knowing how to handle my request, I doubt it. I think he just does not know how to fill in all the papers needed. To admit that will be a loss of face so, 'Madam, there is no place for your bike.' Three hundred metre from the station I see a Toyota dealer and I go there to ask about hiring a van with driver. After some talk one of the mechanics is willing to bring me to Hikkaduwa for only 11 euro. Deal, for that price I do not even have a taxi from the station in Rotterdam to my house. In the Reefcomber Hotel in Hikkaduwa I am welcomed with a drink and a flower chain. Checking in is a little different because I want to stay one night, then leave for one night while they take care of my luggage and come back for another two nights of which the last one is already paid for by my travel company. I see eyebrows being raised but finally it is ok. I already make reservations for the tuk-tuk tomorrow to bring me to the station at seven o'clock. In town I see several signs advertising for 'Ayurvedic massages' and in one of the 'hospitals' I get a complete body massage of one and a half hour, given by two nurses, a so-called 'four-hands-massage'. It is great, I feel heavy and slow, and afterwards my whole body is shining from head to toe of oil.
Ayurvedic massage
HIKKADUWA to COLOMBO
A two-hour train trip takes me to Colombo where I go to the Grand Oriental Hotel. I have looked up this hotel in Lonely Planet and they say it is 'lost glory' but apparently I am not metropolitan enough, I find it a very chic hotel. A hotel with liftmen, bellboys and where you get refreshments even before you check in, is normally not my regular hotel category. At first, there is no room available but when I ask them the return times of the train back to Hikkaduwa there suddenly is just one room free. The Grand Oriental Hotel is the first hotel here where they have clear BBC on television, so tonight I can watch the news without interference. My room is not ready yet but of course I can leave my luggage. There he goes, the bellboy, a very tiny day backpack on his shoulder. Probably he is used to larger and more expensive luggage. To my surprise all shops are closed in town. Yes, it is Sunday, but everywhere in Sri Lanka shops are open on Sunday except in the capital. I visit a couple of temples and get explanation about the origin of several Buddha statues. I know can see there difference between a Buddha statue from Sri Lanka and one from for instance Korea. One of the temples has a collection of gifts from worshippers. The gifts vary from little statues, silver and gold jewellery to a real Mercedes old-timer from 1929. In the harbour I would like to take pictures but that is strictly forbidden. The size of the harbour does not give the idea their infrastructure is worth spying on, but no. Everywhere in this part of town, there are heavily armed police officers around. When I make inquiries about that, I am curious, it turns out they are protecting the house of the prime minister, a state department and a department of national intelligence.
Grand Oriental Hotel in Colombo
COLOMBO to HIKKADUWA
The hoppers for breakfast in Hotel Grand Oriental taste very good. After that, it is shopping time. I buy some nice souvenirs amongst them a little wooden stool with a leather seat with elephant print. Around noon, I see the sign of a Japanese restaurant, and even here of course, I have my lunch. Eating Japanese is almost a tradition, in any country I have been to I did that once. Then I want to visit a church, the Dutch Reformed Church with many tablets with very Dutch sounding names. The services on Sunday however are in Singhalese. I think I have seen most of Colombo now, it is more a business centre than an interesting town for tourists. Two hours back by train to Hikkaduwa, second class this time. The only difference is the thickness of the pillows on the chairs, after a while my butt feels sore.
String hoppers
HIKKADUWA to AMBALANGODA (v.v.)
First thing today is making an appointment for such another delicious Ayurvedic treatment. When that is done, I go by local bus to Ambalangoda. Quite an adventure because if you are not quick enough entering the bus, you will be hanging half outside the bus when it is leaving again. The ticket price (10 rupee per person for covering a distance of 12 kilometres) says enough about the quality: after 5 kilometres it stops. Breakdown. No big deal. Like all other passengers I get off the bus and stopping the first bus coming I yell my destination. When the driver nods I get in very fast because it is driving again already, it seems like the foot of the driver is glued to the accelerator. I have to buy a new ticket, the other one is not good anymore. In Ambalangoda I visit five mask shops, some studios and a place they call a mask museum. At the end, after some negotiation, I buy two masks of devil-like faces. Beautiful. Back in Hikkaduwa it is massage time. First, I get a milk-rice-fermentation sponge. Hours after this treatment I find grains of rice in my hair. Very nice though, the treatment I mean, not the rice! Then a herbal bath is what follows. It looks more like taking a bath in a pond filled with water plants than the herbal baths I am used to at home. Again, very nice and relaxing.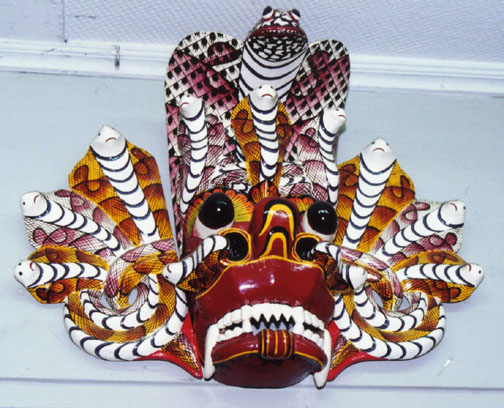 Ambalangoda mask
HIKKADUWA to NEGOMBO
Earlier than I expected my transfer bus to Negombo arrives. That is nice because then I have some time left there. In Negombo I spend the afternoon giving things away. At the local nursing home, they are pleased to receive sterile needles, dressings, some clothing and an impregnated mosquito net. The doctor on call does not understand why I give these things away, they are very expensive here. Even in this private nursing home, they have to use dressings repeatedly because they cannot afford to buy new ones each time. He wants to pay back someway. I tell him it is only partly a good deed I am doing now, it is also that I want to have more room in my luggage for other things. He nods but insists on doing something in return. He gives me a piece of paper with the hospital letterhead. He writes down his own address and tells me I can use this paper for free accommodation when I return in Sri Lanka. I smile and I thank him. Then I go to the local cycle shop. The owner of Negombo Cycle Centre is quite shy when I offer him some of my stuff. A helmet, some cycling clothing, water bottles, a spider, all stuff he can use very well. Back in the hotel with the help of two staff members, I wrap up my bicycle in the cardboard box again. The only thing left is waiting for my transfer to the airport tonight. My cycling trip in Sri Lanka is over.
Many thanks to LIR for correcting my mistakes (again)! And... comments are welcome!
---
This column was read by 30317 unique visitors