Spirou gave up in the last minute
He supported the minaret crisis in Switzerland, sparked tension in Hagia Sophia.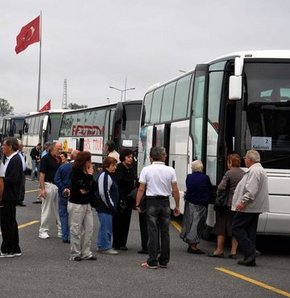 The head of International Congregation of Agia Sophia in Washington Chris Spirou's call for religious service to be conducted in Aya Sofya, stirred tension among the political wing in Turkey.
The ministry of foreign affairs said they had reached Spirou personally. "We have made clear that we could not allow what they wanted to do."
'We are not coming'
Following these developments a group of nearly 250 Greek-American Orthodox, who set off to visit Hagia Sophia for a mass decided not to come to Turkey late evening yesterday.
"We were really upset to learn that they would not let us pray at Hagia Sophia," We had started official correspondence with the Turkish authorities on August 16 and since then we have communicated four or five times. Last time on August 27, we talked with the Turkish authorities both about the mass we wanted to hold on September 17 and transforming Hagia Sophia to its original status as a Christian church. The impression we had was that the Turkish side was open to negotiations. If we were told we would not be allowed to pray there, we would not set off the road.", Spirou said.
Source: here