Antalya Duden Waterfalls - Duden Selalesi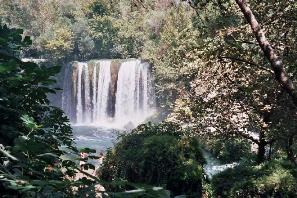 The Upper Düden Waterfalls,are located 14 km northeast from the centre of Antalya. The waterfalls, formed by a karstic depression, are 20 metres high. The location of the waterfalls has the appearance of a botanical heaven thanks to the rich variety of plants. In the deep valley formed by the falling and flowing water of the waterfalls there are promenades and trout restaurants

By entering into Dilek Magarasi (Cave of Wishes), located underneath the waterfalls, it is possible to walk behind the rushing cascade or sit and admire the might and splendour of the waterfalls from inside the catacombs.

This is also a favourite family picnic area of Antalya, which draws hundreds of people everyday for the ultimate picnic experience.

After 8km the water from the falls forms a small creek, creating a magnificent spectacle as it cascades over the 40 metre high falez rock into the sea, as Lower Düden Waterfalls on the way from Antalya to Lara Beach. The nearby rest area, with restaurants and picnic areas, offers an excellent view of the sea and waterfalls. The view is even more spectacular from the sea. Touristic boat tours are organised to the waterfalls from Kaleiçi Marina.