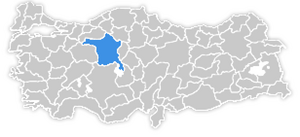 Ankara is the capital and the second biggest province of Turkey. Ankara, lying in central Turkey, was the center of the Turkish independence movement after the first world war. Anitkabir, the mausoleum of Ataturk (founder of the Republic of Turkey) was built in Ankara. Ankara has important government organizations and many high quality universities.

Lying at the intersection of important crossroads, Ankara has an extremely rich history dating back to more than four thousand years. Ankara region possesses plenty of artifacts and ruins from the Hatti civilization in the bronze age, then Hittites, followed by Phrygians and then Persians. Then, Ankara served as the capital of Galatians before being captured by the Romans. After Romans, it has been part of Byzantines before falling into the hands of Seljuk Turks under the rule of Alparslan. After the Seljuks come the Ottoman Empire, followed by present day republic of Turkey.

Touristic places in Ankara include Anitkabir, Museum of Anatolian Civilizations, the Ethnographical Museum, the Castle of Ankara, the Temple of Augustus, the Roman Bath, the Column of Julian, Kocatepe Mosque and Haci Bayram Mosque.