Central Anatolia Region - Ic Anadolu Bolgesi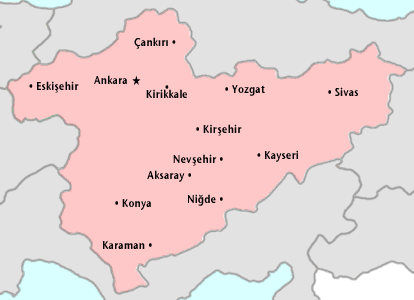 Central Anatolia Region is mostly covered with plateaus circled by the Taurus Mountains on the south, North Anatolian Mountains in the north and the high mountains of Eastern Anatolia. The climate is cooler, dry and less sunny than the coastal regions, with snowfall in winters.

Ankara, capital of Turkey, lies on the northwest of the region. With neighbouring Eskisehir, these two are big and modern cities with well developed industry producing lots of economic values. Ankara region was home of the Hattis, a powerful Anatolian civilization that existed long before most current day civilizations. There are many ruins from their antique cities, and the artifacts found are displayed in the Museum of Anatolian Civilizations in next to the Citadel of Ankara.

Konya, a little to the south, is known as one of the most religious cities in Turkey. Konya was the home of Rumi (Mevlana), the founder of Sufizm (an Anatolian interpretation of Islam). Sufism is a very humanistic interpretation, putting great emphasis on the purity of self and getting closer to god with relaxing rituals accompanied with othantic musical instruments such as Ney.

In the center of the region, Cappadocia of Nevsehir is a place with bizarre natural wonders called fairy chimneys. Cappadocia region, with thousands of years of history, also produces very high quality wine.
---