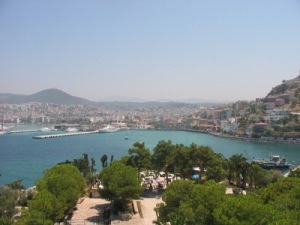 Located 75 km from Izmir by a picturesque bay, Kusadasi is one of the most popular travel spots on the Aegan coast of Turkey. The name, literally translated means "island of birds" and it comes from an island that lies at the entrance of the bay. Kusadasi has a rich history. In the beginning, the settlement was known as Neapolis and is mentioned in ancient scripts. After the hellenistic period, the city was under the Roman and Byzantium`s rules. In the 14th century it became an important port and a colony for traders from Venice and Genua. It was called Scala Nova (New Port) at that time. In the 15th century, Ottomans took control of the city.

The city kept its shape from the beginnings of 17th century until Okuz Mehmet Pasa ordered building fortress around the city, many mosques and public hamams. The remainings of them are now big attractions for residents and tourists.

Kusadasi is today an important touristic center, offering all the benefits of sunny beaches, rich culture and broad entertainment. The city has many hotels, restaurants and shopping centers.