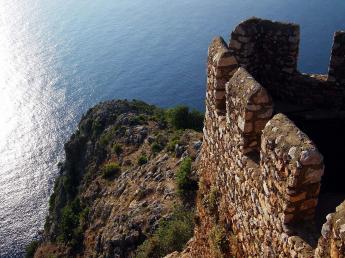 Alanya is a wonderful, picturesque place with modern hotels and campings. There are many bars and restaurants and it is a popular touristic center, with its perfect, sandy beaches - one of them named by an egyptian queen - Cleopathra Beach. For people looking for lively nightlife, Alanya offers all the possible attractions as you take a walk along the coast. A popular attraction here is jumping to the sea from rocks, which you can do from as high as 10 meters.

Historically, Alanya used to be a harbor for pirate ships. Today we can admire its beautiful towers, castles and churches. One of the most interesting places is Byzantian Tower - situated on the top of a hill. This magnificent monument is one of the best anatolian castles. Most probably it was build between 1226-32. Its Red Tower - Kizil Kule - is the first towers built by the Turks in Alanya.

Alanya also offers visitors amazing caves with its 15 meters tall architecture. Karaburun is a small village located close to ruins of an ancient city Dgastiniano. In the past there had been a port there, which nowadays is underground. It was very influential in the times of Kilikia - an ancient Roman province. Alanya is growing a lot of olives, grapes and is famous for its sheep.