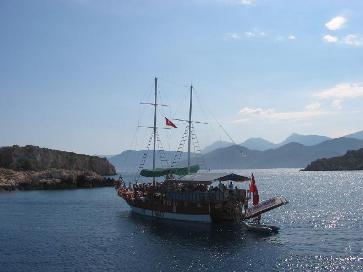 Kemer is a small town located 52 km west of Antalya and right below the Taurus Mountain range. It used to be a small fishermen village, but today it is one of the most attractive touristic destinations, with its own port and many restaurants, clubs and shops. In close vicinity of the town, there is another place with remainings of the ancient city Olympos, built in the year 3 BC. Homer in his Illiad was talking about a living here Chimera - a monster with body of a goat, tail of a dragon and head of a lion. According to the legend, that is where the name `Kemer` comes from.

There are many little places around Kemer from which the area can be fully admired. One of them is Beldibi where visitors find good opportunities to take bike rides along the beach.

A magnificent view on the Taurus Mountains can be admired from a place called Göynük, which lies only 7km away from Kemer. Also the natural beauty is overwhelming here - palm trees, cacti and other natural wonders.

Tekirova, 3km from Kemer is famous for the most beautiful beaches on the coast. Another ancient city ruins are located in this area, called Phaselis.