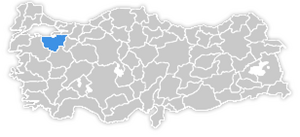 Bursa was the Ottoman capital before Edirne - late 1200s-early 1300s. The two founding sultans of the Ottoman Empire, Orhan and Osman, are buried here. Bursa is also where the empire`s great architectural style was first developed. Today it is a city of 1.5 million people and is a rapidly developing industrial and commercial center. The city is located south of Istanbul and across from the Marmara Sea. Because of it`s location on the slopes of Uludag, the Bithynian Mount Olympus, it has a nickname "Green Bursa" because of the surrounding greenery and forests.

Bursa has also been known as a famous Jewish community. After the conquest of the city in 1324, sultan Orhan permitted building of the Etz ha-Hayyim Synagogue, which was used for over 600 years.

Some of the places to see in Bursa are:
- Muradiye - a cemetery of many Ottoman Sultans and Princes
- Mausoleum of Osman and Orhan Bey
- Ulu mosque, also called the "Grand Mosque", which is located in the commercial center of town, next to the covered bazaar and silk manufacturers` bazaar (Koza Han)
- The district called Yesil (green) is an important part of town with its turquise colored mosque and inner mausoleum which were built during the sultan Mehmet I period.