Marmara Region - Marmara Bolgesi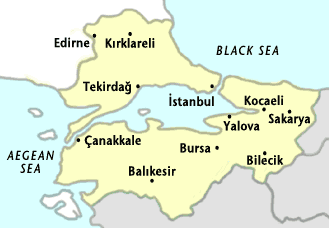 Marmara Region lies on the northwest corner of Turkey, connecting Europe and Asia with two important straits. First one, the Dardanelles Strait (Canakkale Bogazi), has extreme strategic importance and was the scene for the brutal Battle of Gallipolli in the first world war. The second strait, the point where Europe and Asia get as close as possible to each other, is the Bosphorus of Istanbul.

Istanbul is the heart of both this region and Turkey. Although it is not the political capital, Istanbul is the business and industrial center of Turkey. With a population of around 15 million, Istanbul possesses around half of the industrial production and wealth of the country.

Marmara region has a very rich history as well. The traces of Ottoman Empire can be seen very closely in the three capital cities of the empire, all in this region. Bursa was the first capital, followed by Edirne. Istanbul was the third and last capital of Ottomans, as well as the capital of Byzantium. This magnificent city still possesses an intense history along with its modern and rapidly developing identity.

Going couple thousands of years back in history, you can also see the ancient city of Troy close to Dardanelles in this region, with a replica of the Trojan horse from the epic battle of Troy.
---