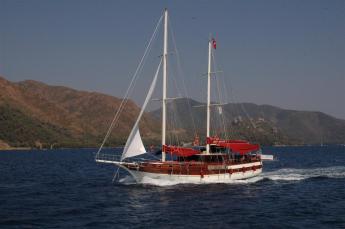 In the south-western Turkey which is famous for its landscapes and romantic bays, there are two popular resorts: Marmaris and Icmeler.

Marmaris is one of the most attractive places on the Aegan Coast. The beauty of crystal clear water in the sea and green mountains almost falling into the sea create an incredible impression. Marmaris amazes also with its ancient and medieval cultural monuments, original old town with many cafes, restaurants and bazaars where one can get quality jewelery, leather and carpets. In the stores - to the amazement of some tourists - the owners serve turkish tea or coffee as a sign of hospitality.

The terrains have a magnificent atmosphere of ancient history, since they are dating back to 5000 years ago. Lovers of art and history will find everything they need here.

Marmaris offers a great variety of activities. From active sports, like swimming, diving and many others for which one can rent the necessary equipment, to lively nightlife as well as calm relaxing spots where one can rest in exotic palm trees gardens and beaches. Excellent places to rest, far from the city, are quiet little bays - which are ample around the area. One of them is a little town Icmeler, which amazes visitors with its delicate sandy beach and special, local atmosphere.