Antalya Archaeological Museum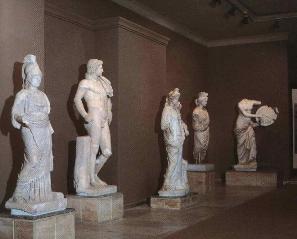 The foundation of the Antalya Museum was laid at rearranged small abandoned mosque next to the Tekeli Mehmet Pasa Mosque, during the Italians` occupation of Antalya, when educator Suleyman Fikri Bey opposed to the Italians who started to collect the antique items found in the region and transporting them to the Italian Consulate. When the Italians left Antalya the works of art they had collected were transported to this little museum. After 1937, as a museum was used the Fluted Minaret Mosque.

Today`s Antalya Museum on Konyaalti is one of the biggest and important museums of Turkey. The Museum has 13 exhibit rooms and an open air gallery. A total of 5000 items are shown on a 7000 m2 ground. Further 25 - 30.000 artifacts which cannot be displayed are in storage. The museum comprises the following sections: The childrens section, natural history, pre-history, small objects, gallery of the gods, underwater remains, gallery of the emperors, burial culture, icons, mosaics, coins, etnografic sections and open air gallery.

The Museum is the only one in Turkey with a children`s department exhibiting ancient monuments appealing to children - various children`s toys and antique moneyboxes.