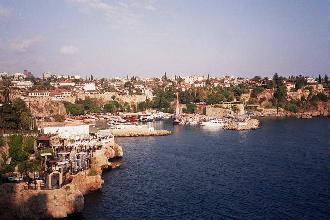 The city of Antalya is founded by Attalus II, king of Pergamum. According the old legend, King Attalus sent his men to find the most beautiful place on the earth, "heaven on earth", for building the new capitol. After a long search all over the world, they discovered this place and said "This must be `Heaven`". At this place King Attalus founded the city, giving it the name "Attaleia". Since its founding in 159 BC, Antalya has been continuously inhabited. The Romans, Byzantines and Seljuks successively occupied it before Ottoman rule.

Todays Antalya is splendid city by the sea, called the "pearl" of the Turkish coasts. It is built in a spectacular bay bearing its name, at 39 meters altitude on a rocky coastline, with the mountains of Taurus behind. It is a lively, festive place with a Mediterranean atmosphere, rich in vegetation, where the sun shines on the clear blue water of the sea 300 days a year.

Antalya is divided between the new town with large modern buldings, and the old city, which is much more interesting, with the old Roman port, the old bazaar with tiny alleyways crammed with jewellers, carpet dealers, scent and spice sellers and the characteristic Ottoman houses built of wood and brightly painted.

Except The Old City - Kaleiçi, worth seeing are Yivli Minare which is the symbol of the city, The Karatay Medrese (theological college), the Murat Pasha Mosque, Tekeli Mehmet Pasha Mosque, The Hidirlik Kulesi, Iskele Mosque, The Kesik Minaret Mosque, The clock tower in Kalekapisi Square, the Ataturk and Karalioglu parks where various exotic Mediterranean plants are grown, the Hadrian`s Gate, the Ataturk and the Archaeological Museums.

The Lara beach to the east and the Konyaalti beach to the west of the city are ideal for swimming.

Interesting places in the vicinity of the city of Antalya are the Upper and Lower Duden Waterfalls, Kursunlu Waterfalls, Saklikent winter sports center, Gulluk Mountain National Park and Karain Cave which was a settlement place in the Stone Age.

Antalya is also a good base for visits to nearby archeological sites such as Aspendos, Olimpos, Perge, Phaselis, Side and Termessos.