Southeastern Anatolia Region - Guneydogu Anadolu Bolgesi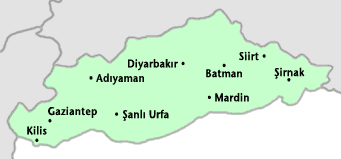 Southeastern Anatolian Region lies on the plains of northern Messopotamia around the banks of the rivers Tigris and Euphrates. The temperature is very hot and dry, but agriculturel production is increasing with the help of GAP (Southeastern Anatolian Project). This project involves building large hydroelectric dams to provide more water and change the face of the region.

Southeastern Anatolian Region is among the least developed parts in Turkey, and the gap between some towns in this region and large western Anatolian cities like Istanbul can be drastic. Despite the economical poverty, the region is quite rich in terms of history. Gaziantep, Diyarbakir, Adiyaman, Sanliurfa, Batman, Mardin, all have unique historical sites where you can feel the atmosphere of many older civilizations and visit their artifacts. Mount Nemrut on the north of Adiyaman is especially worth a visit with its large statues of ancient kings and gods.
---