Turkey Geographical Regions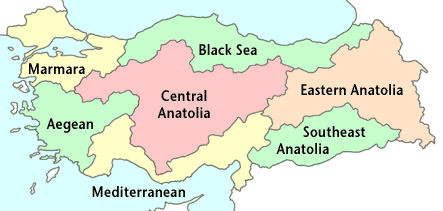 Turkey, surrounded by four seas on three sides, covers a relatively large region in Asia and Europe. Seas around Turkey and the mountain lines passing through divide the country into separate parts differing from each other with geography, climate and culture.

Marmara region, named after Marmara sea it surrounds, is the most populated and industrialized part and it encloses the European part of Turkey.
The Aegean Region lies on the Aegean coast and includes many touristic locations and historic sites.
On the Mediterrenean Region, the distinct Mediterrenean climate and culture distinguishes the area from other regions.
Milder climate affected by the Black Sea waters separates the north coast as the Black Sea Region.
The Central Anatolian Region, lying between the Taurus and Northern Anatolian mountain ranges, includes the capital city Ankara.
The Eastern Anatolian Region, is covered with high mountains, and is sparsely populated.
Southeastern Anatolian Region, on the other hand, covers the lower plains of Upper Mesopotamia.
---