Mediterranean Region - Akdeniz Bolgesi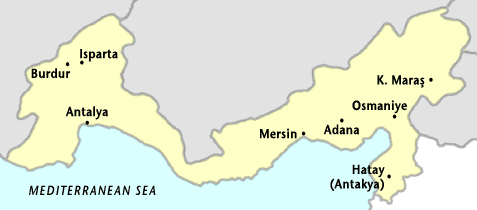 Located by the mediterrenean coast, this region possesses the Mediterrenean culture and texture, and inherits a rich history from the former civilizations that flourished and fell on these lands throughout history. High and steep Taurus mountains separate this region from central Anatolia.

Mediterrenean region has many big cities and provinces as well as many touristic paradises and historical sites. Adana, Mersin and Hatay are more industrialized provinces of the region, on the east. If you go further to the eastern border of the region, to Kahramanmaras, you can treat yourself with the world famous Maras ice cream, produced with completely natural and traditional techniques.

Heading west, Antalya is the touristic powerhouse of the region and the country, hosting many millions of foreign visitors and travelers every year. Antalya region is a truly unique travel experience with its beautiful nature intense history and warm people all in one place.

Mediterrenean Region also has religious attractions like the birthplace of St. Nikolai (the real personality behind Santa Clause), and the churches in Antioch. Tarsus in the eastern part of the region was the home of St. Paul, and has important churches and artifacts from this era. Mediterrenean region is also very rich in ancient Greek historical sites.
---