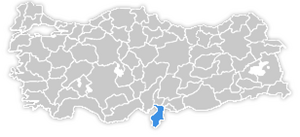 Hatay is a province in southern Turkey, in the east of Mediterrenean Region. Hatay has borders with the Mediterrenean sea on the west and with Syria on the east.

Capital city of Hatay is Antakya, formerly Antioch. Iskenderun, another important city in Hatay, has the historical name Alexandretta. Iskenderun has one of the biggest ports of Turkey, Port of Iskenderun (Iskenderun Limani).

Hatay, especially capital Antioch, has a very rich history. Hatay museum today has very rich collections of Roman mosaics. The cave church of St. Peter in Antakya is where he preached and sounded the Christian community. The site of this church is in Vatican`s list of holy sites. Castle of Antioch is also worth seeing to experience the thousands of years old history of the city. Church of St. Pierre is also another important site from biblical history. Seleuica Pieria, the ancient city on the path of the missionary journeys of St. Paul and St. Barnaba, is also in Hatay. These are just samples from the rich historical sites of Hatay, there are many more to see for interested visitors.