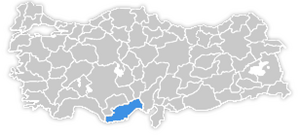 Mersin is a province in southern Turkey, in the Mediterrenean region. It is located between the Taurus Mountains on the north and the Mediterrenean sea on the south. The capital of the province, city of Mersin, is a coastal city by the Mediterrenean coast, and has one of the most important ports of Turkey (Mersin Port - Mersin Limani).

Although not as many as Antalya, Mersin has some ncie coastal towns. These towns are more popular among Turkish travelers than foreign visitors. The closest airport to Mersin is Adana International Airport (69 km). Mersin is also well connected to neighbor provinces by railroads and highways. Transportation by sea is also possible to more than 100 international ports, through the Mersin Port. From the port in city of Tasucu in Mersin, you can take a ferry to the Turkish part of Cyprus in a few hours.

One historical location in Mersin is the ancient Roman town, Soloi-Pompeiopolis. One of the major cities of Mersin, Tarsus, is the birthplace of St. Paul, one of the prominent figures of Christianity.