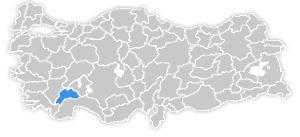 Burdur is a province in southwest Turkey. It lies in Mediterrenean Region, between Mugla, Antalya, Denizli, Afyon and Isparta. The capital of the province is the city of Burdur.

Burdur is in the Lakes Region of Turkey, called Goller Yoresi in Turkish. There are lakes of many different sizes here. The most important ones are Burdur Lake and Salda Lake. Although Burdur doesn`t have Mediterrenean Sea coast, Lake Burdur has a nice beach - Centik Beach.

Insuyu Cave, the second largest cave in the world, is in Burdur province. You can take a tour of the cave in small boats.

The ancient city of Sagalassos in Burdur, used to be the capital of Psydia. This ancient city has a large Roman theatre, ancient tombs and a medieval castle. Hacilar town in Burdur also has ancient remains going as old as neolithic age. There are many other historical sites and fishing, hunting, camping sites in Burdur.