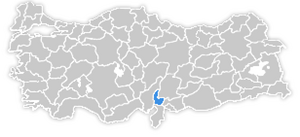 Osmaniye, formerly part of Adana, is a provinces since 1996. It is located between Adana, Hatay, Gaziantep and Kahramanmaras. Osmaniye is a small province with a population of less than 200,000.

Osmaniye is located on very fertile lands and produces almost 80% of the peanuts in Turkey. Kadirli, in Osmaniye, has lots of Radish production (70% of Turkey). Hasanbeyli in Osmaniye produces a lot of cherries, most of which is exported.

Some attractions in Osmaniye are Zorkun Plains (Zorkun Yaylasi), thermal spas of Haruniye, the ancient city of Hierapolis, the Aslantas open air museum and Karatepe, where fine traditional Turkish rugs are produced.