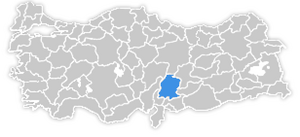 Kahramanmaras s located on the east of Mediterrenean Region, and part of the province is in the Eastern Anatolian Region. Kahramanmaras is famous for delicious Maras ice cream prepared with traditional methods, hot Maras pepper. Gold and textile industry are the most important parts of the economy of the province.

Kahramanmaras literally means "Hero Maras". The former name of the province was Maras. After the strong local resistance in this province against the French invasion forces during and after the first World War, the Turkish National Assembly gave Maras the title "Hero - Kahraman".

Cities of Kahramanmaras are Afsin, Andirin, Ekinozu, Elbistan, Goksun, Pazarcik, Turkoglu and Nurhak.